Thursday Dec 15, 16
Nature Calls Page 06 Update!
by: a bear costume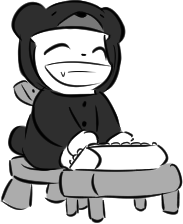 There's only one update left in "Nature Calls" after this, coming on Monday. After that, we'll be taking a two-week break for the holidays. We'll be back on January 2nd, 2017 with the first-ever joint Racia AND Antau (RACIANTAU) story, "Desperate Times"!
But for now, enjoy these last pages!