Monday Jan 02, 17
Desperate Times Update!
by: a bear costume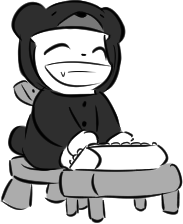 Monday's update (the first of our next story, 'Desperate Times') is out!
We're back from a short holiday and ready to plow through the end of Phase one, Protasis! Won't be saying as much in any of these spaces from here on out - have way too much work to do in the back over here! You'll be seeing big changes soon enough, don't worry!
Hrm. Maybe should consider doing separate long-form blog posts. Will get back to you on that, too!
Enjoy! This one's a beauty! And so are you!