Wednesday Feb 01, 17
Senseless Town Page 05 Update!
by: a bear costume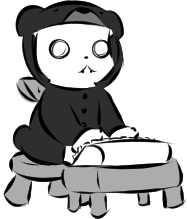 "I Live in a Senseless Town" has updated with Page 05!
You might be thinkin', "Whoa, that's some trippy stuff!" but you ain't seen nothin' yet (that's not true, you may have seen dozens of our pages, thanks as always for your continued support).