Monday Feb 06, 17
Senseless Town Page 06 Update!
by: a bear costume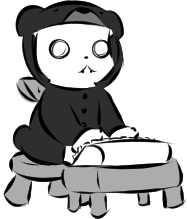 "I Live in a Senseless Town" has updated with Page 07!
And here's a link to the full image spread!
We're trying out an earlier update time to see how that changes engagement (if at all). Let us know what you think at sal@raciantau.com or gabriel@raciantau.com!