Monday Feb 20, 17
Senseless Town Page 13 Update!
by: a bear costume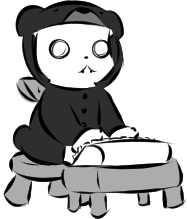 "I Live in a Senseless Town" has updated with Page 13!
Last week we got a little write-up from Gage, the Webcomic Wanderer. Thanks for the plug!
We're heading into the last week of "I Live In a Senseless Town" updates! Time to bring it all back home.