Friday Feb 24, 17
Senseless Town Page 15 Update!
by: a bear costume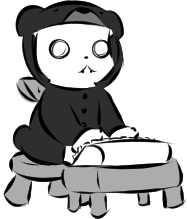 "I Live in a Senseless Town" has had its last update! Page 15 is out!
That's all, folks! Come back next Monday, 2/27, for the next Antau story, "His Story Repeats Itself!" It is … what you might expect, given the title, and also something you could never have predicted!
Thanks for all your support! Check out our Patreon page while you're at it! We've got lots of behind-the-scenes goodies for you all!